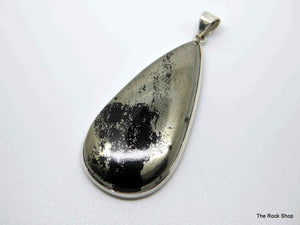 Sterling Silver and Pyrite Tear Drop Pendant
Regular price €120,00 Sale
This Beautiful Tear drop pendant is made from Sterling Silver and Pyrite.
Complimentary Box Supplied 
Pyrite
Key Words: Protection, Energy, Confidence
Healing Properties: Pyrite creates an excellent shield from negative energy. It enhances will power, creativity and confidence. It is an excellent energy booster, increasing stamina and alleviating fatigue and tiredness.
Physical Properties: Pyrite is called 'The Stone of Health' as it positively affects the body's health. It is particularly useful in the treatment of bone and lung disorders. It is effective in reducing swelling and fevers.
This item does not come with a chain. A variety of Sterling Silver chains can be bought online also.