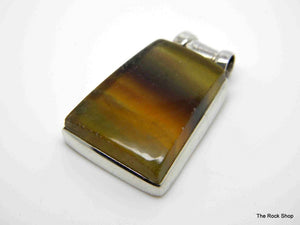 Sterling Silver and Fluorite Pendant
Regular price €63,00 Sale
 Beautiful Fluorite Pendant mounted on a Sterling Silver Frame.
Complimentary Box Supplied 
Fluorite is also called fluorspar.  It forms cubed-shaped crystals that are often blue, violet, purple, green or yellow, though white and pink types are sometimes found.  In ultra violet light, it glows with an effect called fluorescence.  It has a hardness of 4, and is most commonly found in England, Germany and Austria.  Fluorite clears the mind of stress from fast-paced living, aids sleep, and also provides for a stabilizing energy, helping relationships, groups and individuals to flourish in what is beneficial to them.

This Item does not come with a chain. A Variety of Sterling Silver Chains are available on our online store.