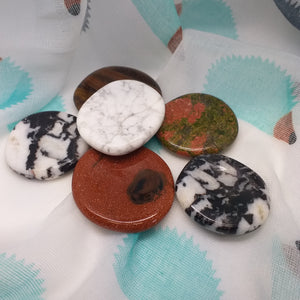 Worry Stone - Various types
Worry stones  are smooth, polished gemstones, usually in the shape of an oval with a thumb-sized indentation, used for relaxation or anxiety relief. They are used by holding the stone between the index finger and thumb and gently moving one's thumb back and forth across the stone.
Unakite
Unakite, also called Epidote is a combination of red jasper and green epidote solidly bound together. It gets its name from the Unaka Mountains in south-eastern USA where it was first discovered, but can also be found in South Africa, Brazil and China. Unakite is recommended for safe pregnancy and healthy growth of the infant while in the mother's womb. It is also supportive in convalescence and recovery from a major illness. Placed in the home, it brings a calm gentle energy into the home.
Gold Stone – The stone of Ambition
Key Words: Courage, Positivity, Confidence, Circulation, Arthritis, Strengthens Bones.
Healing Properties:  It builds energy, courage & a positive attitude. Increases drive & confidence. Stabilises emotions & aids staying calm.  It is used as an energy generator and like diamond is a good deflector of unwanted energies, therefore is a protection stone
Physical Properties: Strengthens the circulatory system, strengthens bones, and eases arthritis pain, it is felt to be extremely helpful in increasing blood flow and reducing inflammation.


Snowflake Obsidian
 Key Words: Muscle cramps and joint pain, Detoxifying, Arthritis, practicality and fulfilment.
Healing Properties: A stone of purity, balancing mind, body and spirit. Opens the door to change. Considered a good detoxification stone & releases negative energy.
Physical Properties: Aids digestion & detoxifies. Associated with the skeletal and vascular system Relieves muscle cramps and joint pain.
Howlite
 Howlite crystallises in the form of white nodules, compact masses, and hexagonal-type crystals.  It has a hardness of 3½, and is most commonly found in the United States. It ranges in colour from green, white to blue. It can be used to eliminate pain, stress, and rage by teaching patience.  Howlite can be useful for balancing calcium levels in the body; it can be used in the treatment of disorders of the teeth, bone structure, and soft tissues.  This white stone aids and deepens sleep, helping the individual to recover wisdom from the dream state.  Howlite is frequently dyed a pale blue and sold as Turquenite which is often mistaken as Turquoise.
Picture Jasper
Key Words: Addiction Release, Fear, ReleaseToxins
Healing Properties: It is a grounding and harmonizing stone with a strong connection to the earth. It is said to encourage creative visualisation, creativity and business pursuits. It is also said to help alleviate fear.
Physical Properties: It is believed to stimulate the immune system, to help clear pollutants and toxins from the body, and to cleanse the kidneys. It is believed to be useful when giving up smoking as it is said to strengthen the resolve.
Rose Quartz
Key Words: Unconditional Love, Heart & Circulatory systems, graceful energy, Heart Chakra.
Healing Properties: Dissolves emotional wounds, fear and resentment. Helps forgiveness. Opens the heart chakra to all forms of love: self-love, family love, platonic love, and romantic love
Physical Properties: Strengthens the heart and circulatory systems. Helps skin disorders especially from stress,
Helps the body to eliminate excess fluids and impurities.
Tigers Eye
Key Words: Wealth, Prosperity, Good Fortune, Courage, Attention Deficit Disorder.
Healing Properties: It is a stone for the mind, focusing the mind. Tiger's Eye is believed to enhance good luck, bring prosperity often in the form of money. It can convert potential energy of thought into material riches. It was used by ancient soldiers for protection & courage, so it was always known to be a stone of empowerment & courage.
Physical Properties: It treats the eyes and aids night vision.  If carried it helps treat ADD, anxiety & procrastination.